As part of your DCC treatment and education plan you will be scheduled for class education.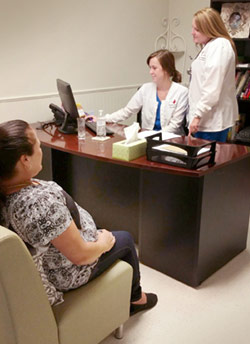 DIABETES 101
In "Diabetes 101", you will learn basic, yet pertinent, information about good blood sugar control. Whether you are a seasoned veteran in the diabetes world, or a person who is newly diagnosed, this class is vital for diabetes management.
ADVANCED CARBOHYDRATE COUNTING
Counting carbohydrates is vital to maximize your best diabetes control. You will also learn tips and tricks on how to eat healthy while "on the go", eating healthy on a budget, and eating healthy at restaurants. You will also receive meal and snack ideas that fit within your recommended daily allowance. Quick and easy recipes will be provided as well.
WEIGHT MANAGEMENT FOR DIABETES
Benefit from active monitoring of diabetes-related complications.
Did you know that just 5-10% of weight loss is enough to significantly improve blood sugars, cholesterol, and blood pressure? Come and learn how to manage your weight using practical lifestyle changes. No crash diets or diet pills allowed!
[/fusion_imageframe]
ADVANCED PUMP – For patients with insulin pumps
If you are currently using an insulin pump, come in for advanced information. We want you to use your pump to its fullest capabilities. Learn how to make your pump work for you with features such as extended bolus and temporary basal settings.
TYPE 1
This class covers all the "must-knows" of Type 1 in one class. Topics include carb counting, treating highs and lows, sick day management, ketone testing, and use of glucagon.
Additional classes
EATING OUT
Improve your nutrition through certified diabetes and nutrition classes.
Can we still eat out AND be healthy? Learn how to eat out at fast food restaurants and dine-in restaurants while still managing your blood sugar, weight, and heart health. Learn how to judge quality versus quantity while also learning to make wise choices!
GROCERY SHOPPING
Learn how the layout of the grocery store can affect your purchases and health. We will discuss how these stores affect our stomachs and how to overcome anxiety when it comes to facing the dreaded grocery store!
Classes are held on Tuesdays at 11:00 a.m.
The Foot Care class is held once a month on a Thursday at 2:00 p.m.