Inspiration led to mission…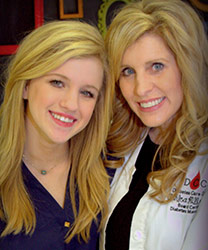 As a Nurse Practitioner student,
my area of focus was diabetes and early insulinization in diabetes management. Little did I know that my focus in school was not just preparing me for my role in the healthcare field but also preparing me to care for my own child. My daughter, Caroline, was diagnosed with type 1 diabetes in 2011.
Caroline's diagnosis was a defining moment for me…both personally and professionally. It became clear to me that ACCESS to state-of-the-art technology and education was the key to help Caroline, and others like her, manage this life-long disease.
As a diabetes specialist and as a mother, I understand the challenges of diabetes…and the consequences of limited diabetes management. I am not just certified in diabetes…I LIVE diabetes! My goal and heart's desire is to provide every individual with the tools necessary to manage his or her diabetes and to live life to the fullest!
Until the cure is found,
Ashlea Hill
Ashlea Jones Hill, APRN, FNP-C, CDE, BC-ADM Board Certified in Advanced Diabetes Management